Over 30 Years of Experience Painting Portraits!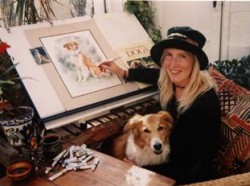 Originally from the Cotswolds, Christine Varley has been working since 1987 as a professional Pet & Animal Portrait Artist. A career formed from two great passions … the love of dogs & animals, with her talented creative skills, and is now recognized as one of the leading Artists in the UK.
For more information about Pet Portraits visit www.pet-portraits.co.uk
Whilst studying at Coventry University for a graphic design BA Hons Degree, Christine painted pictures of the pretty Cotswold villages, selling them in the local galleries. In the late 1980s a publishing company, distributed reproductions of original pencil drawings & watercolour paintings which sold extensively across the UK of dogs, cats, animals, birds & scenes.
" …It's all in the eyes " this is what the customers say is the secret to successful portrait painting. Christine has a reputation for capturing the very character of the animal she is painting, bursting with life …as if it will jump right out of the picture! Painting from the garden studio in Derbyshire with dogs around her feet, the portraits have been sent all over the world.
"My experience enables me to advise my clients on the best pose & layout for painting the animals. Being an animal lover myself, I understand the importance of the relationship between owners and their pets. It's very important that the owner is really pleased with the paintings I create for them. I want the portraits to be a treasured reminder of all the wonderful memories"
Designs from the vast portfolio of work have been selected to create this latest range from Christine Varley Studio… WaggyDogz. Featuring dog breed images and other animals on Greetings Cards, Mugs, Coasters, Keyrings, Cushions, Tote bags, Prints. Images are also available to license. Bespoke paintings can also licensed for your own unique projects.
Exhibitions at Crufts Dog Show (celebrating 21 years at the show 2020) and the major UK Horse Trial Events, Spring Fair and other large trade shows. Some of the companies and charities who have worked with Christine include Central TV, Vanish, Tesco, Red Letter Days, Daily Express, Daily Mail, Dogs Trust, Kennel Club, The Brooke, Guide Dogs for the Blind, Next, Harrods, iBeani, Evans of Lichfield, Viceni.