UK and USA Markets… success for WaggyDogz Cards & Gifts
Spring Fair – NEC – 5th – 9th February 2019 (Hall 3, X13)
Crufts – NEC – 8th – 11th March 2018 (Hall 3, 47)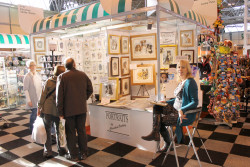 Its…"All in the eyes" here at WaggyDogz with our expressive dog breed designs. Preparations are underway for our 3rd appearance at the NEC Spring Fair 2016. Since our launch in 2013, the WaggyDogz range is continuing to grow. All our products feature the highly detailed paintings by pet portrait artist Christine Varley. The Dogs Trust Charity greetings cards continue to sell well, alongside the keyrings, mugs, coasters and tote bags.
As we are a 'Made in Britain' brand, we recently teamed up with Evans of Lichfield to create the WaggyDogz cushions range, which have been a phenomenal success since their launch at last years show. We plan to bring other textile products and wall art to this years show. Other launches include our new Bone China mugs, printed in the UK and the WaggyDogz clocks will also be making their first appearance.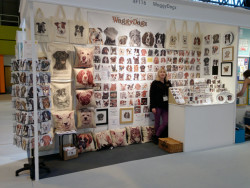 We have over 140 WaggyDogz images available for licensing on your own products. Its not just dogs… we have cats, farmyard and wildlife images also available. New York based Pavilion Gifts took on a license for the USA this year with their first products on sale this autumn. We are always on the look out for new and exciting ways to use our images, making your products into 'Great Gifts for Dog Lovers!'
Waggydogz will be exhibiting at Crufts, NEC 2016 once again on the Christine Varley Studio stand. This is the 17th appearance at the show and the WaggyDogz cards & gifts are much appreciated by this dog loving audience. With new breeds being added to the range, each year there is something new to look forward to.