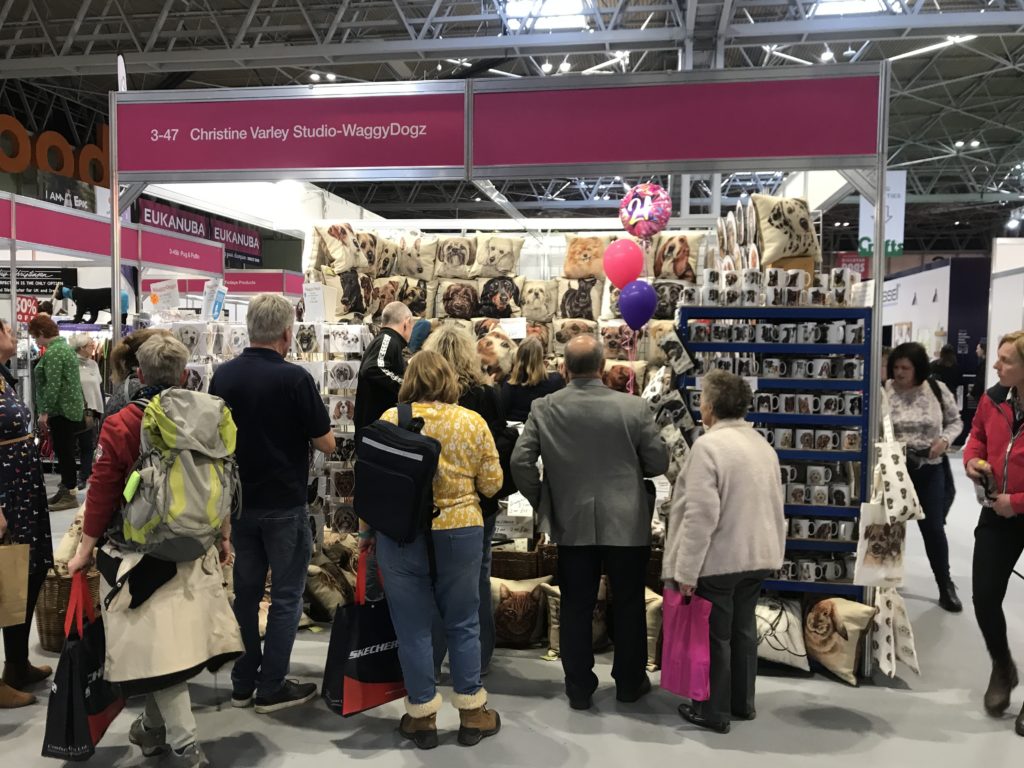 CRUFTS – NEC 2023……..March 9-12 (Hall 3-46)
See you at the World's Biggest Dog Show !!
"It's All in the Eyes…" here at WaggyDogz with our expressive dog breed designs. Since our launch in 2013, the WaggyDogz range is well established and continues to grow. All our products feature the highly detailed paintings by Pet Portrait artist Christine Varley. We have our best-selling Greeting Cards with donation to The Guide Dogs Charity , many designs available as Cushions, Keyrings, Mugs, Coasters, Tote bags. New products currently being considered, and if you have any suggestions please get in touch! Visit our stand to see the products and discuss your requirements or just come and say hello.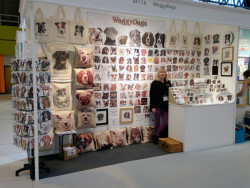 We have over 200 WaggyDogz images available for licensing on your own products. It's not just dogs… we have cats, farmyard and wildlife images also available.  We are always on the look out for new and exciting ways to use our images, making your products into 'Great Gifts for Dog Lovers!'
CELEBRATING 24 YEARS OF EXHIBITING at CRUFTS MARCH 2023..!!!  WaggyDogz will be present once again at the biggest dog show in the world on the 'Christine Varley Studio' stand in Hall 3, NEC. WaggyDogz cards & gifts are much appreciated by this dog loving audience. A great opportunity for us to meet our customers face to face and get feedback on our latest designs. With new breeds and new products being added to the range, each year there is always something new to look forward to !! A chance to view original paintings on display and meet the artist !
LATEST NEWS….
WaggyDogz Charity Greetings Cards Guide Dog Success
A big thank you to all our customers… we have reached our target from the sale of our greetings cards, to fund our very first Guide Dog !! Summer 2020 we received the uplifting news that our puppy had been born. Following an on-line competition to 'Name the Guide Dog' we are proud to introduce Ruby, a black Labrador, as our first WaggyDogz Guide Dog. After her puppy-walking she commenced her training. Once qualified she will began her amazing work as a guide dog, improving the quality of life, as well as being a faithful companion for her future owner. Now raising money for a second guide dog !!
New Distribution Partner 2023
We currently working with Daro Soft Furnishings on our latest Cushion Range. Produced in the UK these luxury velvet cushions are fully piped and soooooo soft, everyone loves them! Locally made… so we are supporting British manufacturing, with new designs being added all the time. Other textile products are currently being discussed, exciting times ahead !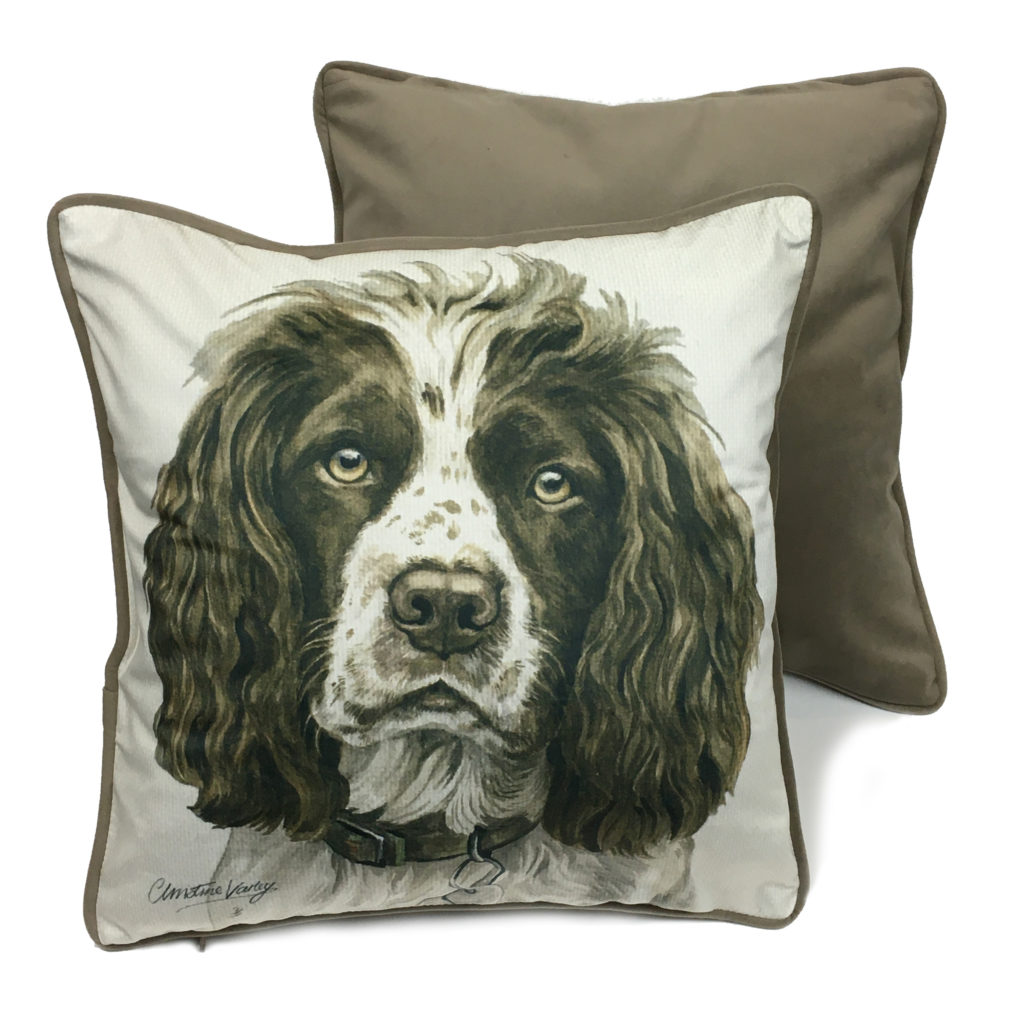 SPRING FAIR 2018
Exciting news here at WaggyDogz … We are pleased to announce Spring Fair is the launch of our Guide Dogs charity Greetings Cards !! Guide Dogs funding is totally reliant on donations for the continuation of their amazing life-changing work.
"I got so scared of going out and leaving the house, even with my cane …now there is nowhere I won't go.! I just got braver with my dog by my side. It's unbelievable how my dog has changed my life ! "
new guide dog owner
All WaggyDogz cards will display the logo, with a donation from the sale of each card in support of this worthwhile charity.
Also this year, we celebrate our fifth year of trading with even more designs in our catalogue. The new section, 'Equine' offers choices for our horse loving customers. There are new cats as well as even more additions to our ever popular dog breeds.
SPRING FAIR 2017
WAGGYDOGZ ARTIST CELEBRATES 30YEARS WITH NEW PUPPY RANGE
"Our beautiful brown Lurcher Dog, 'Charlie', loves the new WaggyDogz puppy designs launched this February at Spring Fair 2017!" These new and 'oh-so-cute' designs for greetings cards, cushions and tote bags will soon be rolled out across other ranges. WaggyDogz, in collaboration with Evans of Lichfield, have experienced huge success over the past 2 years with cushions and other textile products featuring popular dog breed illustrations. WaggyDogz artist, Christine Varley celebrates 30 years of painting this year! Established in 1987 as a professional animal and Pet Portrait Artist, Christine's original watercolour paintings, painted in great detail, have been sent all over the world. The launch of these new puppy designs is a fine celebration!
Christine works from her garden studio with her dogs at her feet, creating her beautiful masterpieces. "It's all in the eyes…this is the secret to great portrait !" says Christine, who understands the special relationship between owners and their pets. Clients say "You have captured the very character of the dog, like it will jump right out of the picture!" The WaggyDogz greetings card designs have been chosen for their appealing eyes, a real winner with customers who love to browse a spinner of cards looking for their favourite breeds.
WaggyDogz brand with its quirky logo was launched in 2013. "I wanted to take my paintings to a wider audience." explains Christine "The name was an inspiration from our springer spaniel dog 'Molly' whose tail does not stop wagging! She features in the range as design number 140 and is one of our best sellers. The range has been expanding steadily over the past 4 years since its launch and has gone from strength to strength." Due to this on going success, a new larger Christine Varley Studio building has been constructed to accommodate the growing business. As well as greetings cards and cushions, the range includes key rings, mugs, clocks, coasters, chalkboards, tea towels, tote bags and canvas art. New potential licensing ideas are always welcome.
WaggyDogz is a made in Britain brand, using small family run companies to produce their products. "We are passionate about supporting British industry with the manufacture of our products, which can be a challenge in the broader market place with tight profit margins." At this fourth appearance at Spring Fair another new product will be launched, Bone China mugs produced and distributed on license by UK based EastWest Ltd.
The 'to do' list on Christine's painting easel keeps growing, so look out for new designs in the forthcoming months, or send in your suggestions! "I have had an enormously satisfying career over the last 30 years, meeting so many interesting people and their pets. Its very heart warming to see my little painted friends on all the WaggyDogz gift products. I look forward to many more years painting animals of all shapes and sizes in the years to come."
SPRING FAIR 2016
UK and USA MARKETS SUCCESS for WAGGYDOGZ CARDS & GIFTS
Its…"All in the eyes" here at WaggyDogz with our expressive dog breed designs. Preparations are under way for our 3rd appearance at the NEC Spring Fair 2016. Since our launch in 2013, the WaggyDogz range is continuing to grow. All our products feature the highly detailed paintings by pet portrait artist Christine Varley. The Dogs Trust Charity greetings cards continue to sell well, alongside the keyrings, mugs, coasters and tote bags.

As we are a 'Made in Britain' brand, we recently teamed up with Evans of Lichfield to create the WaggyDogz cushions range, which have been a phenomenal success since their launch at last years show. We plan to bring other textile products and wall art to this years show. Other launches include our new Bone China mugs, printed in the UK and the WaggyDogz clocks will also be making their first appearance.We have over 140 WaggyDogz images available for licensing on your own products. Its not just dogs… we have cats, farmyard and wildlife images also available. New York based Pavilion Gifts took on a license for the USA this year with their first products on sale this autumn. We are always on the look out for new and exciting ways to use our images, making your products into 'Great Gifts for Dog Lovers!'